GPL 100

Thermal Mass Flow Meter
We recommend the GPL 100 thermal mass flow meter for all GPL 750 odorization systems. Given that the odorant injection rate of the odorizer is proportional to the pipeline's gas flow rate, a flow meter with excellent low-flow sensitivity and high rangeability assures accurate, optimal, and repeatable odorization with low-flow and intermittent-flow systems.
The meter is approved for use in Class I, Division 2 hazardous areas and is CE approved. The GPL 100 is available with 24 VDC input power. The power dissipation is among the lowest in the industry at less than 2.5 watts. The thermal mass flow meter offers both a 4-20 mA signal and, pulse output of total flow. Also, Modbus RTU with RS-485 communication is optional providing both daisy chain communication and the capacity to reconfigure the operating considerations of the device.
The thermal mass flow meter can function with either the ½" insertion probe in 1" and larger pipe, or the inline flow body with ¼" to 4" pipe. Various connections are available for inserting the probe into the pipe. The meter is calibrated by an NIST traceable calibration facility preconfigured with the specified process and installation parameters for the application. The GPL 100 has a dual compartment housing with separate wiring sections featuring large, easy-to-access terminals for simple field installation.
Performance
Accuracy: +/– 1% of reading plus 0.5% of full scale
Repeatability: 0.2% of reading
Low-end sensitivity: 5 SFPM (1 SCFM in 6" pipe)
Response time: 1 second constant
Turndown: 100:1
Resolution: 1000:
Electronics
Power: 24 +/-10% VDC
Output : 4-20 mA
Pulse: Solid-state
Isolated: Externally powered 4-20 mA and pulse
Modbus: RS 485 RTU optional 1
Approvals: Class I, Division 2, NEMA 4, CE
Ambient temperature: –40 to 150° F (–40 to 65° C)
Sensor
Type: Insertion probe (1/2" diameter)
Flow Body with flow conditioning (1/4" to 4")
Materials: 316 stainless steel and Hastelloy C
Process temperature range: –40 to 200°F (–40 to 93° C)
Process pressure: Max 500 psig
Other Odorant Injection System Upgrades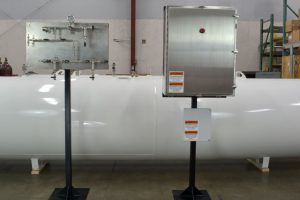 GPL Odorizers offers full packaged odorization skids with the odorizer, ASME odorant tank, and containment assemblies; in both vertical and horizontal tank configurations.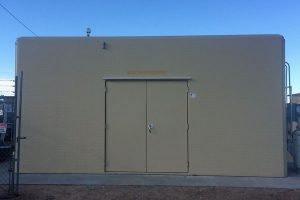 To add an extra level of protection from weather, environmental events, and security, we offer the upgrade of a Shelter Works custom-built fiberglass building to house the entire odorization system.
Our temporary/portable odorization packages are easy to transport by a forklift and fits in the back of most pickup trucks.
The GPL 750 Odorizer solved one of our most challenging odorization applications. It demonstrated accurate and repeatable odorant injection even in no flow, low flow, and intermittent flow conditions. The GPL 750 has proven to be boringly reliable.