Pre-Odorization and Temporary Odorization
GPL Odorizers designs and manufactures portable and temporary odorization systems which permit pipelines to avoid disruption of service commonly incurred during construction. Temporary units also are employed during natural gas pipe pickling, pipeline conditioning, or pre-odorization.
GPL Odorizers systems are easy to transport by forklift or pallet jack and fit into the back of most pickup trucks. The unit includes everything necessary for odorizing, including the odorizer, odorant tank, containment, interconnecting valves and a holder for the customer-supplied nitrogen tank for blanket gas pressurization. No actuation gas is required for the odorizer's operation, simply connect the electrical power, or use an optional battery pack or solar power package.
GPL 10000 System
Continuous Odorant Injection
Up to 1480 PSI (102 Bar)
From 0.48 MMSCFD to 240 MMSCFD*
GPL 750 System
Batch Odorant Injection
40 to 250 PSI (17 Bar)
From no flow to 24 MMSCFD*
*injection rate of 0.5 lb./MMSCFH)
Standard Offerings
Vertical 60-gallon odorant tank rated at 250 PSI but operated at 30 PSI via a customer supplied nitrogen tank mounted on the skid
Stainless steel containment vessel
Swagelok Series 60 isolation ball valves for odorant fill and supply, vent, bypass and blanket gas
Odorant tank relief valve
Pressure regulator and check valve for blanket gas
All interconnecting tubing
Pressure regulator and hose for blanket gas connection to a nitrogen tank
Mounted odorant filter with replaceable cartridge
Other Odorant Injection System Upgrades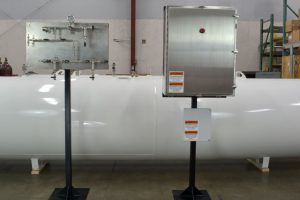 GPL Odorizers offers full packaged odorization skids with the odorizer, ASME odorant tank, and containment assemblies; in both vertical and horizontal tank configurations.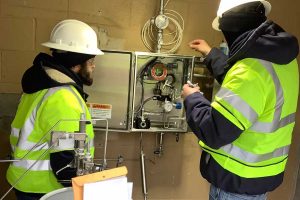 Through our GPL-authorized service provider, we offer our clients a one-stop acquisition experience, to ensure excellent service while minimizing oversight and scheduling challenges.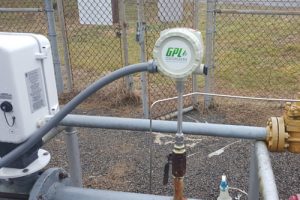 The GPL 100 thermal mass flow meter upgrade, assures that the GPL 750 odorizer provides accurate, optimal and repeatable gas odorization.
The environmentally friendly and odorless GPL 10000 odorant injection system is an integral component of our temporary odorization system, which allows us to effectively deliver odorant in a variety of applications.