GPL 750
Odorant Injection System
The GPL 750 odorizer draws from advanced proprietary technology to provide precise odorization in even problematic conditions, for example, low-volume (even no-flow) and intermittent-volume conditions. The odorizer unit is appropriate for municipalities, small city gate stations, and methane (biogas) producers. The PLC receives flow information and automatically compensates the injection rate to provide uniform odorant distribution.
Batch Odorant Injection for Pipelines:
1 to 225 PSI (1-15.5 Bar) Standard
No Flow to 24 MMSCFD (injection rate of 0.5 lb./MMSCFH)
The GPL 750 replaces the GPL Z9000, which was formerly the Zeck Systems Z9000.
GPL 750 Feature
GPL 750 Benefits
A sealed-loop system means no gas or odorant discharges to atmosphere

No smell during operation and maintenance
Lowers false leak-call complaints
Eco-friendly; better for the environment

Does not use gas to actuate the system
Odorant injection relative to gas flow

Eliminates under- or over-odorization issues
Accurate and reliable odorant injection

High rangeability (high turndown ratio)

Odorization of a wide range of flows (even problematic flow ranges)
Precise odorant injection relative to gas flow

One moving part with minimal fittings and tubing

Simple operation
low maintenance
long-lasting performance
no smelly pneumatic pumps to replace or maintain

Industry-leading PLC with large (7"), intuitive, color touchscreen and SD card data storage

Easy to learn and operate
The data stores on PLC SD Card permitting accessible audit-trail reports for regulatory or company inspections
Communicates real-time critical alarms and soft alarms (maintenance reminders)
Allows for Modbus (SCADA)

PLC Interfaces with SCADA Systems

SCADA systems save time and energy, increase reliability, reduces cost, improves worker safety, higher customer satisfaction, and improves utilization.

Wireless modem

Remote communication (using a wireless modem or Modbus) permits real-time mobile alerts and online monitoring to mobile phones and computers to prevent small problems from becoming big ones and speeds up restoration time.

Easy-to-use software provided

No additional software required

Class I Division 2, Groups C and D Class I Division 1 optional
Turnkey odorization packages
Class I Division 1 hazardous classification
Heater
GPL 100 thermal mass flow
Thermoelectric generator
Solar panel
Odorant Injection System Upgrades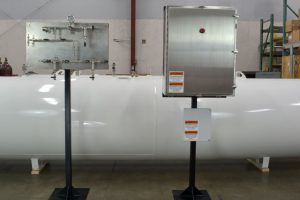 GPL Odorizers offers full packaged odorization skids with the odorizer, ASME odorant tank, and containment assemblies; in both vertical and horizontal tank configurations.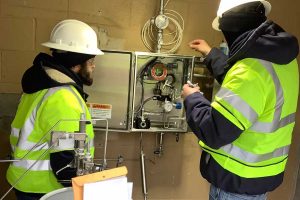 Through our GPL-authorized service provider, we offer our clients a one-stop acquisition experience, to ensure excellent service while minimizing oversight and scheduling challenges.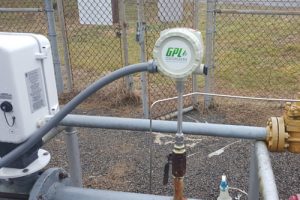 The GPL 100 thermal mass flow meter upgrade, assures that the GPL 750 odorizer provides accurate, optimal and repeatable gas odorization.
The GPL 750 Odorizer solved one of our most challenging odorization applications. It demonstrated accurate and repeatable odorant injection even in no flow, low flow, and intermittent flow conditions. The GPL 750 has proven to be boringly reliable.