The GPL 750 Portable Gas Odorizer delivers reliable and accurate odorant injection for temporary odorization and natural gas pipe pickling. Additionally, the unit is an excellent model for a training unit and emergency odorization. GPL Odorizers has released an updated version of this deployment unit.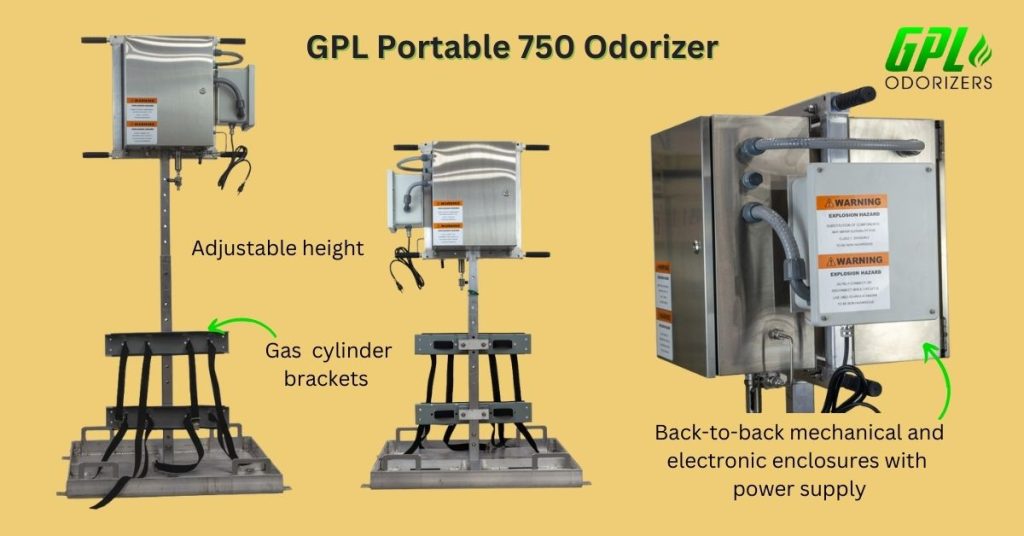 GPL 750 Portable Odorizer
The GPL 750 Portable all-in-one design offers users a streamlined, portable odorant injection system that is easy to deploy, disassemble, and ergonomic because of its telescoping aluminum stand. It provides accurate and reliable natural gas, propane, and biogas odorization and performs well in low-flow and intermittent gas-flow conditions at pipeline pressures 1-225 PSI.
Custom Design Odorization Solutions
The unit comes in three separate components that, when assembled, create a portable all-in-one, adjustable odorization unit on a containment skid:
Odorizer Section – The GPL 750 Odorizer has mechanical and electronic enclosures affixed back-to-back in an upper post assembly. An integrated power supply also powers the mechanical components' heater circuit inside the enclosure. The odorizer section has handles, permitting easy handling.
Basin – The basin permits odorant tanks and blanket gas tanks to rest upright. The basin serves as a containment skid or 20-gallon catch pan to capture odorant if a tank leaks. Additionally, handles on the top of the basin serve for lifting, while holes in the skid serve for staking the unit.
Lower Post Assembly – The square post is aluminum and mounts into the basin. The odorizer section inserts into the upper portion of this assembly, creating a telescoping stand with multiple pin positions to accommodate different pipeline heights with an approximate 32-inch variation. There are two height-adjustable gas cylinder brackets with restraints to hold and secure odorant and power gas, whether methane or nitrogen.
All three major parts (odorizer section, basin, and lower post assembly) quickly and easily assemble, operate, and offer a standalone experience. Likewise, the unit is collapsible and easy to move and transport.
Odorization Applications
If you're interested in learning more,  contact us now.
Portable Odorizer Video